Gisèle Human
SOL chatted to talented South African Jewelry Designer Gisèle Human whose brand WAIF Includes fans from all over the globe.
WAIF manages to encapsulate a well-rounded balance between Geometric Structure and all that is Light and Ethereal ensuring pieces that truly make a statement.
We forsee great things ahead for the brand and we can't wait to see how the brand will evolve in the future.
Gisèle took time out of her busy schedule to talk to us about her jewellery design journey, the Ideal WAIF woman and some of her favourite jewellery pieces.
Check out the official WAIF website here. We are swooning over the latest collection with a name to boot: Technicolor Melodrama and an decadent dramatic red backdrop- a feast for the eyes!
How did you get into Jewellery Design and was it something you always knew you would end up doing?
My mom is a goldsmith, so it's always been an option in that I have always felt comfortable in the studio, chemicals, gas bottles, fire and all. But I was initially not interested in the arts at all, opting for a career in advertising. I quickly grew tired of the beurocratic BS that comes with agency life and I wanted to be in charge of all my creative decisions. I also met my boyfriend around this time, and he was self-employed and self-taught which inspired me to do the same. I was making some jewellery for myself and friends and I saw a gap in the market. This was at a time when South African young women could only shop at a very limited amount of stores. This was before Country Road, Zara etc were available in town. And I saw an opportunity to create a life for myself that I would like, where I'd be in creative control and make beautiful things.
One of your earliest memories of a jewellery piece that left an impression on you.
My mom bought a tortoise shell inlaid barette hair clip for me when I was about 13 or 14 years old. I still have it somewhere, and it is the most beautiful thing in the world. It totally informed the shapes I still work in, and it really had a massive influence on my wanting to create something so beautiful, that people would be inspired to make something beautiful too.
Tell us a bit more about your creative process when designing a new collection.
Oftentimes, my new collection will start with practical experiments with new materials and new techniques. For example, the big difference between my last two collections was the inclusion of a lot of new stones and stone work that required a lot of development. The design part of things happen in a very tactile way, rather than as a design in a sketch pad.
How would you describe the ideal WAIF Woman?
I think women who like and wear WAIF are quite varied. But I do love it when their style is eclectic and a little crazy. And I especially love it when older women wear and like my jewellery. I worry about how invisible women can become once they reach a certain age. When a woman comes to me at the age of 75 and buys my wildest earrings, I get a real kick out of it.
Why the name WAIF?
WAIF was the genius suggestion of a friend, Nicole, who is also the designer of my logo. It fit because it was a bit of a play on words in that my jewellery is wafer-thin. The word 'waif' is traditionally a negative word, describing really thin women (Kate Moss comes to mind), and I've always been pretty skinny in my youth, which has it's own struggles and prejudices. So calling my brand Waif gave me the opportunity to breathe new connotations and new meaning into the word, including being bold and courageous and strong, which you need to be to start and retain a brand.
What have been some of your professional highlights so far?
A recent project was a massive undertaking, and I'm really excited for it to come out. It was a film co-written by myself and local up and coming writer / director, Aadil Dhalech. We wrote a film for Waif, working with Inge Beckmann in the lead role. I then produced the film and it's now in post production. Having a background in advertising has meant that I have a lot of fun creating in this department, and making a film was an absolute highlight. The film is called Repertoire and it'll be out in January 2018.
How can people creep on your work?
Best would be to check out Instagram, and my handle is @waif_things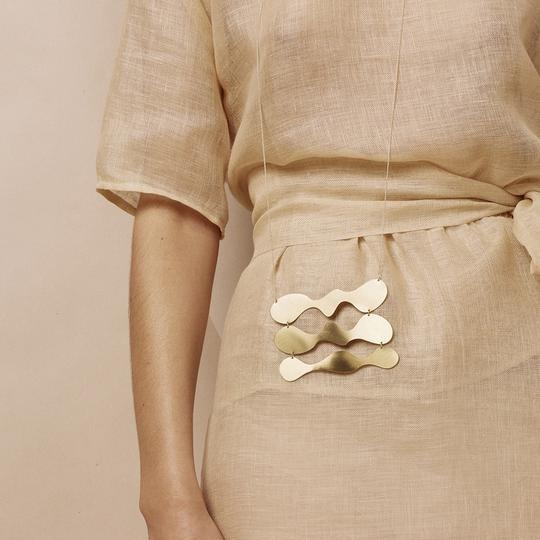 Finally if you could sum your life up in a piece of jewellery what would it be and why?
The Thinking Ring in silver is my favourite piece and I wear it regularly. It's solid and kind of heavy which means you can't forget that you're wearing it.
You can find it Here.